EXTRA EXTRA.. Want to see your home in a HOLIDAY with Matthew Mead full size spread?? Do friends and family tell you your home is magazine worthy? Have you ever wondered if your home has what it takes to be featured in print? Yes? Well, get ready to put your home's best face forward and see if we agree.
We, the team at Holiday with Matthew Mead, are looking for a great home with style to feature in a three-spread layout in the upcoming issue (to be launched in October 2010). We will come to YOUR home and decorate it for the holidays, with all styling and photography done by Matthew Mead, himself. We will work at your home for 2-3 days... propping and photographing all aspects of lifestyle, including food, people, decorations, etc.
Clean, fresh, light-filled modern sensibility with interesting collections and a description of some of your HOLIDAY traditions.
1.This contest is open to residents of the U.S. and Canada. Most importantly: you MUST own the home you are submitting images of. Because of the challenges in contacting and having the legal owners of the rental property sign the releases, and the short time frame of this contest (the feature will be shot this summer), we simply cannot risk the liability and potential hold-ups that might be involved. We know that renters have beautiful homes, too, and in no way is this stipulation meant to offend those who rent. The exclusion is for liability and technical reasons only, due to the nature of the short time frame between the submission of photos and the actual shoot.
2. We are looking for NO MORE than
FIVE
pictures (4x6 size) of your home. On the back of each picture, please put your full name and the approx. size of each area/room. Also, please include the following information with your entry:
Full Name
Address
Phone #
Email address
Any other pertinent information you feel will help us get a better feel for the space.
3. Some suggestions for rooms/areas to submit images for:
mantel, staircase, dining room with table and window in shot, furniture groupings (living room, sitting area), windows, large piece of furniture suitable for decorating, your kitchen
.
4. These PRINTED pictures (not on a cd) should be mailed, not emailed (electronic images will NOT be considered). In other words, we want the good old-fashioned printed photos.
Please mail these photos to:
Matthew Mead Productions, Inc.
75 North Main St.
Boscawen, NH
03303.
5. In addition, please post this button in your blog or business website's sidebar: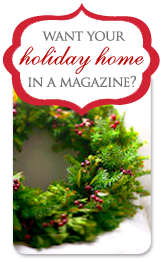 Let us know you purchased a copy of HOLIDAY (which will NOT be sold on newstands, but rather, ONLY on this website (see the
BUY HOLIDAY
link below our banner)...
Become a Follower and Tweet or Facebook about our contest.
(and let us know what you did in the comment section of this post!)
So, get your cameras out and send us some great photos of your home. Who knows, you just might find your home peeking out from the pages of Holiday 2010!!!
But hurry!
The contest closes on July 15th,

and all entries must be postmarked on or before that date, with no exceptions.
Good luck!
(This contest is now closed)
***************************
Holiday with Matthew Mead is sold only through this website.
Have you reserved your copy yet?