Well, we all know looks aren't everything; but when it comes to magazines and blogs, looks matter!
While our former design was pretty enough (see below), we knew Lyndsay could create a fresh perspective, incorporating a little of everything HOLIDAY is about.
We decided to
Beautify Our Blog
- engaging the immensely popular and uber talented blog designer, Lyndsay Johnson and her partner Sarah Bradford. Lyndsay is the designer who changes things up regularly on
NieNie'
s
lovely blog. She is a master at making things personal, as NieNie's blog best exemplifies, and we are happy to show off our make-over which incorporates a little of what we are all about.
Lyndsay and Sarah are also on the cusp of launching something new: their new website and business,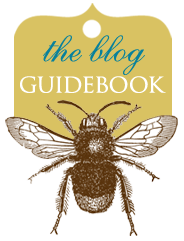 What is the Blog Guidebook, you ask?
Well, as Lyndsay and Sarah explain, it is
"

...a friendly forum for all bloggers, to help you connect with your interests, as well as showcase your personal blog(s). The Guidebook offers a FREE listing on our site to all bloggers...Personal and business spotlights, as well as giveaways will be regularly featured on the Guidebook. The Blog Guidebook is the vision of a group of women who want to see the blogging community grow in friendship, creativity and beauty. That's really what blogging is all about.
Established in 2010 as an off-shoot of a popular blog design business,

The Blog Guidebook

encompasses all bloggers, be they crafty, creative, cooks, bakers, teens, moms, dads, children in need, pet lovers, home stylers, antiquers, flea marketers, home schoolers, doctors, lawyers, in any country, and on and on. You name it, you can blog it. And we want to read it!
Blogging is a new form of journalism, it is a way to self-publish your dreams, hopes and stories of your world. The Guidebook offers a way for others to find you in a friendly, happy, jolly, safe environment...
The Guidebook also offers amazing Blog Tips, Tricks, Tweaks and Video Tutorials. You can ask the Guidebook questions and get an answer.
We are real people here, not just a computer with an automatic reply...

"
So, be sure to pop over and check it out.
The site goes live on June 1, 2010.
To get yourself in

the free guide

or to find out the benefits of and how to become a sponsor,

head here

.
Holiday with Matthew Mead is proud to be a sponsor of the The Blog Guidebook and we hope you join us, too!
Best,
Matthew
************************************